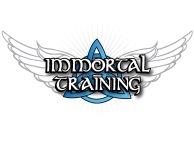 About Immortal Training
My name is Tayvis Gabbidon and I am Immortal Training. Almost a decade of inspiring people to change their lives for the better as a personal trainer and nutrition therapist in the Oxford community has taught me many things. I have used that experience as well as that of competing in American sports for most of my life, to develop the Immortal Training system. It is FULL proof and I am proud to boast a 100% success rate for all of my clients over the past two years!
What makes Immortal Training so effective?…
… Well, I thought you'd NEVER ask!
Trial and error has shown me that the people that succeed are those that get immediate results (normally within the first two weeks). My job is to get you those results within that short period of time. Doing so will ensure your commitment, gain your trust and, most importantly, make your investment work for you. The investment is your health and I'm sure you'll agree that nothing is more important.
The Immortal Training System is made of three disciplines that, along with my guidance and expertise, you will quickly master. They are called The Three Pillars of Perfection and they are made up of nutrition, training and lifestyle.
We deal with each of them simultaneously in the following ways…
I: NUTRITION
Biosignature modulation* for targeted weight loss in specific areas by way of hormonal analysis in order to create your very own personalized diet plan
Supplements
Support from Immortal Training's exclusive 5 star chef, Boni Odhiambo
Online cooking videos
*To learn about biosignature modulation: http://www.intershapefitness.co.uk/biosignature-modulation/
*To take my free online self-assessment go here: http://immortal-training.com/nutrition/
II: TRAINING
1-to-1, couples', or group personal training sessions
Bio-mechanics assessment for posture, corrective exercise and injury prevention
Weekly programmes
 Online training
Rewards for reaching quarterly goals
III: LIFESTYLE
Social events, social media groups and monthly competitions can be encouraging enough, but considering all of that, this pillar is most important. For that reason it cannot be bullet pointed. Reason being is that it is unique to you and you alone, and the mastery of the previous two pillars are not possible without this one.
If are prone to craving chocolate, anxiety, developing "love handles", insomnia, etc., then biosignature modulation may be the key to quickly improving your lifestyle. Other issues, such as injury, time, genetics, habits, career, low self-confidence, etc., require more strategical solutions. Understanding your obstacles and providing exactly what you need in order to overcome them in the simplest way possible is what I do best.
To understand more about the Immortal style of training feel free to watch the video above. I also encourage you to spend a complimentary hour with me if you truly feel that I can inspire you to better yourself and your legacy!
Everything starts from within.
Tay