WHAT ARE THE MAIN CAUSES OF BELLY FAT IN WOMEN?
There are many causes for belly fat storage in women, but in this article we will focus on the five biggest, as they are completely different for women than they are for men.
In my experience and research, I have found that the most common problems that women face have to do with one, or more of the following:
Thyroidal minerals

Calories

Protein

Vitamin D, and/or

Sleeping patterns

THYROID MINERALS
WHAT ROLE DOES THE THYROID PLAY IN BELLY FAT STORAGE FOR WOMEN?
Thyroid minerals seem to play a much bigger role in weight loss in women than it does for men. Studies show that one in ten men are affected by thyroid issues, compared to one in ten women. The American Thyroid Association estimates that five to eight women are affected by Hashimoto's to every one man.
THYROID HORMONES
Our thyroids produce a hormone known as T4 (thyroxine), which gets converted into T3 (triiodothyronine). T3 is the active thyroid hormone that acts on the tissues & cells in our bodies to control metabolism. It does this by increasing oxygen in the mitochondria that causes thermogenesis (burning of fat). T3 also plays a vital role in metabolising glucose/carbohydrates.
The inability to produce adequate levels of T3 will make it difficult to efficiently burn glucose in the cell. Glucose eventually gets converted into fat in the liver through a process called de novo lipogenesis (storing of fat), and liver fat accumulates to… guess what… belly fat.
HOW TO HACK YOUR THYROID
Iodine is critical for creating thyroid hormone. In supplement form  it is usually sold in the form of sea kelp, but seafood, and seaweed are  the best food sources.
When the thyroid converts iodine it also creates hydrogen peroxide, which can can trigger symptoms in people with autoimmune conditions, such as Hashimoto's. Selenium is a mineral that is needed for the conversion of T4 into T3 that also neutralises hydrogen peroxide, so it should be taken alongside iodine.
Zinc is another important thyroid mineral, which needed to trigger the thyroid hormone receptors in the hypothalamus gland of the brain.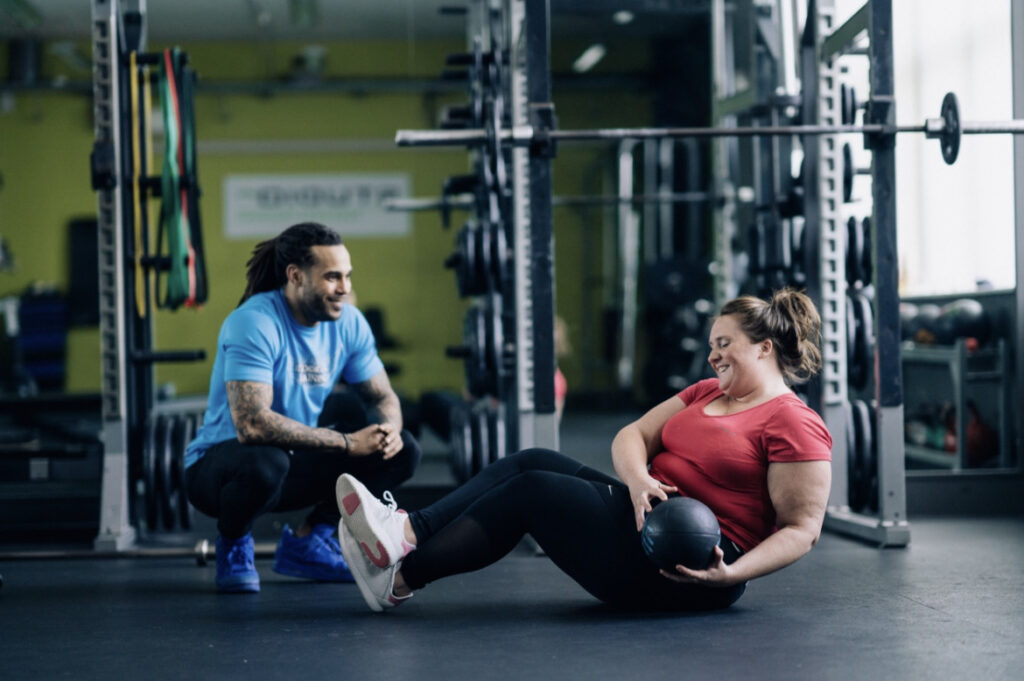 LOW CALORIE DIETS
HOW DO LOW CALORIE DIETS CAUSE BELLY FAT IN WOMEN?
Studies show that women are more likely to go low-cal than men. Even though staying in a calorie deficit is important for weight loss dropping too many can be counterproductive.
When calories drop too low the body increases thyroid stimulating hormone (TSH) to make more thyroid, but instead of converting T4 to T3 it starts producing reverse T3. Reverse T3 blocks the thyroid receptors, so that normal T3 cannot bind. This makes a slow metabolism even slower.
To avoid creating too much reverse T3 you should keep your deficit within the 200-500kcal range, and go back to baseline every 4-5 days.
NOT GETTING ENOUGH PROTEIN
Micronutrients are those that have calories, which means they give us energy. Besides carbohydrates, and fats, protein is one of the three macronutrients. Protein is needed to build and repair muscles & bones, and to make hormones & enzymes.
That means it can increase lean body mass (LBM). The more LBM the higher the basal metabolic rate (BMR), which is the amount of calories needed to maintain a person's bodyweight. Our BMR is responsible for 60-70% of the calories we burn. Therefore, lean body mass is directly linked to metabolic health. The higher the lean body mass, the more calories burned at rest.
Protein also burns more calories during digestion than any other food, and is more satiating, which means you're less likely to binge on crap food.
Women should consume 1.5 grams of protein per 1 kilogram of bodyweight per day, while men need 2 grams per kilo.
VITAMIN D
IS VITAMIN D DEFICIENCY ONE OF THE MAIN CAUSES OF BELLY FAT IN WOMEN?
Despite the name, Vitamin D is actually a hormone. It is the only hormone that our bodies can't create on its own. Vitamin D must be consumed through food, or obtained through sunlight.
In a Study from the American Journal of Clinical Medicine, named Effects of Weight Loss on Serum Vitamin D in Menopausal Women, 439 women aged 50-75 took part in a year long trial. The women were split into four groups: 1) diet only; 2) exercise & diet; 3) exercise only, and; 4) a controlled group.
The study found that the women who lost 5-10% of their bodyweight had an increase in Vitamin D3, but when they lost 15% that number tripled. What does this mean?
Vitamin D is fat soluble, so it will be released during thermogenesis. When this happens, uncoupling protein-3 also gets released, which stops excess fat from getting into cells. Instead the fat gets burnt, or excreted. The conclusion suggests that metabolism of Vitamin D.
STRESS
HOW IS STRESS ONE OF THE MAIN CAUSES OF BELLY FAT IN WOMEN?
A study published in the Journal of Brain & Behaviour found that women are two times more likely to suffer from anxiety & stress than men.
Stress can be caused by a lot of things, but the most common is a lack of sleep. With a lot of people, a lack of sleep also leads consuming too much caffeine during the day. Both of these issues can contribute to adrenal fatigue.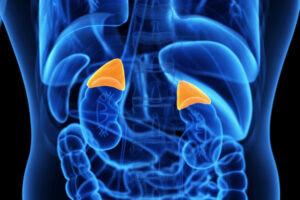 The adrenal glands sit jus above the kidneys. Stress causes adrenaline, and cortisol (stress hormone) to be released from the adrenal glands. There are four times more cortisol receptors in the abdominals compared to the rest of the body, so stress eating means that a considerable amount of that chocolate cake is going to be stored around the mid-section.
The remedy for this is to make sure you get 7-9 hours sleep per night, and to incorporate practices into your life that help reduce stress, such as meditation, yoga, nature walks, warm, candle-lit baths, etc. 
REFERENCES:
Study – JAMA: https://jamanetwork.com/journals/jama/fullarticle/1103993
Study – American Journal of Clinical Nutrition: https://pubmed.ncbi.nlm.nih.gov/14592784/
https://academic.oup.com/ajcn/article/94/1/95/4597994?login=false
Journal of Biological Medicine: https://www.ncbi.nlm.nih.gov/pmc/articles/PMC4966724/
Journal of Brain & Behaviour: https://onlinelibrary.wiley.com/doi/full/10.1002/brb3.497