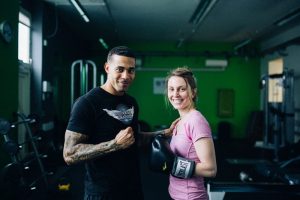 Grab a fitness package at Immortal Training worth £220 – for just £110! Only available on the JackFM website in the Jack Shop. Go here: http://www.jackfm.co.uk/jack-shop/voucher/half-price-fitness-package-with-immortal-training-574/
After almost a decade of experience in the fitness industry as a personal trainer, Tayvis has developed great knowledge and understanding as to what people really need to be successful with their life styles, diets and training regimes in order to get real results. This is why Tayvis has developed Immortal Training.
Before meeting in person, we begin with a biosignature assessment to find out exactly what foods are right for you specifically, in order to create your very own personalised diet plan with the help of our own 5* chef, Boni Odhiambo. In the first session, we will discuss your dietary options and also go through a biomechanics assessment to get you moving safely and correctly, or to address any imbalances that might need to be worked out through corrective exercises. You will also have life time access to the online training section of the website to help you become more independent in the gym.
This is one of the two packages exclusive to the JACKShop – below is what is included!
Postural & biomechanics assessment – £20 value
Biosignature assessment for nutrition- £20 value
4 x 1-2-1 PT sessions – £180 value
Total value of £220
But, all of this is yours for just £110!