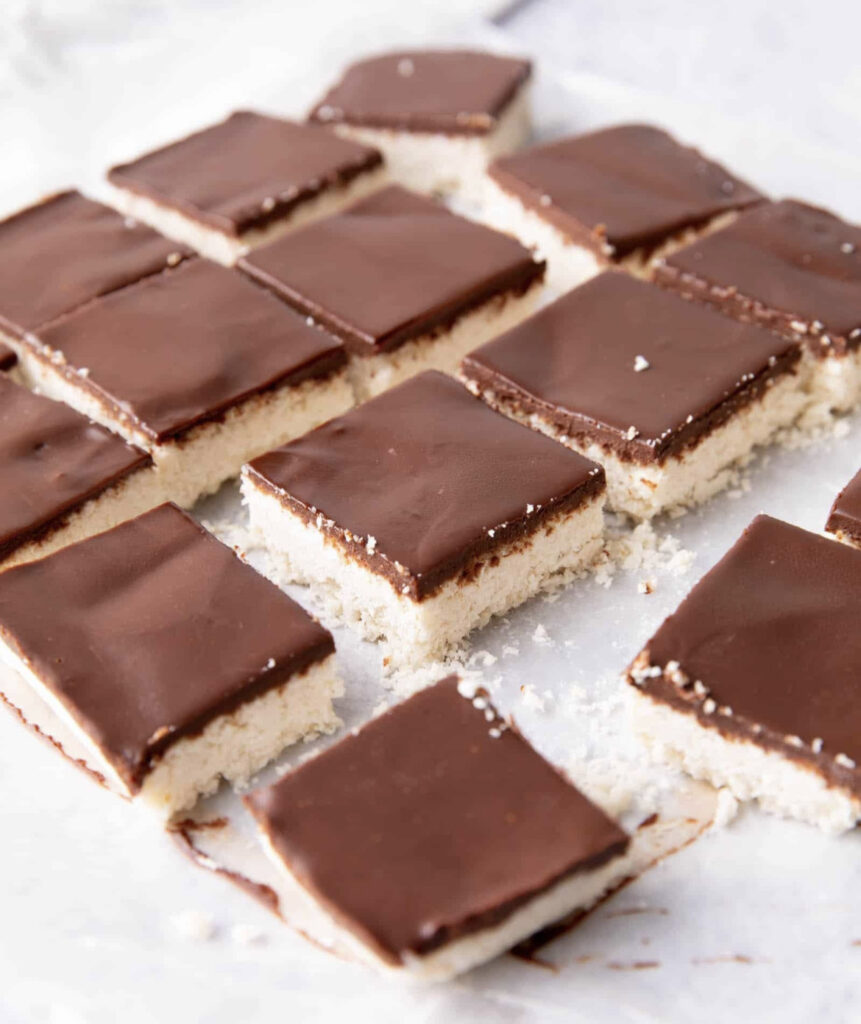 KETO BOUNTY BAR RECIPE
Do Keto Bounty Bars Taste Good?
Short answer – yes! The healthy version of the world's favourite chocolate coconut treat shares an almost identical taste to the original and is super easy to make!
Keto Bounty Bar Recipe Ingredients
Filling
200 g desiccated / shredded coconut unsweetened
2 tsp vanilla
4 tbsp granulated sweetener or to your taste
4 tbsp coconut cream
6 tbsp coconut oil melted
Sugar free chocolate coating
100 g coconut oil melted
6 tbsp powdered sweetener
45 g cocoa unsweetened
2 tsp vanilla
Directions
Mix all the filling ingredients together until well combined. Spoon into a square dish lined with baking parchment/paper. Place in the freezer until firm enough to cut.
Remove from the freezer and cut into bars, squares or roll handfuls into balls. Place each one on a baking tray lined with baking parchment/paper. Place the baking tray with the coconut bars back into the freezer to completely freeze and set. Mix all the coating ingredients together and mix well. Dip each frozen bar, square or ball into the sugar free chocolate coating and place on a lined baking tray. Store in the freezer for up to 1 month and the fridge for up to 1 week.
Enjoying the Keto Bounty Bar Recipe? Try this amazing Raw Chocolate Keto Shortbread recipe next!: https://immortal-training.com/chocolate-keto-shortbread/