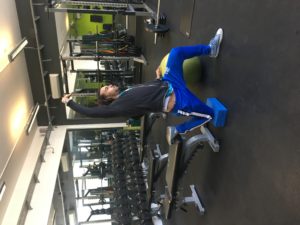 HIP FLEXOR STRETCH
Tight hip flexors can hugely restrict your hip mobility, pelvis & lower spine position, and destroy your squatting technique, among other things. Stretching them on a daily basis is definitely a genius idea!
To perform the above stretch, take one knee in front of a bench, or chair. You may need a couple of yoga boxes, or something similar to cushion your knee. Your foot should be hooked over the edge of the bench. Use a stability ball, or another chair for balance. Once in position, push your hips forward while reaching over your shoulder towards the opposite bum cheek.
Haha! Bum cheek. 😂🤣
*Ehem* Excuse me. Lol.
Hold for ten to twelve seconds and release slowly. Be sure to work both sides evenly.
– Tayvis Gabbidon